From the moment they hit the stage
Koo Ka Choo barely stop to catch
breath. The seemingly endless
barrage of 70′s hits will have you
singing and dancing for the whole
show. A superb 70s Tribute show…
The KRYS Band have been gigging
since 1978. KRYS are respected on
The UK cabaret scene as one of the
best 60's bands out there, and are
one of the busiest bands in The
Midlands.
The 'Like Country Chix' plan is to
bring good ol' Country music to the
masses and with good humour,
great outfits, excellent live vocals,
together with an eclectic mix of
instruments.
BRINGING BACK THE WALL OF
SOUND……….. Like Krystals with
their original sound and look. Their
lush harmonies will instantly
transport you back to a time where
miniskirts, Mary Quant and
beehives ruled.
The ultimate tribute to the sounds
of Detroit. The production is very
tight, which is what you would
expect from this high class show,
with fantastic harmonies, slick
routines and stunning costumes.
Like Voice Tones are vocalists &
musicians that recreate the sound
of the classic vocal harmony bands
from the fifties, sixties & right up to
the present featuring Four Seasons
through to Take That…
Not musicians playing soul, but
musicians WITH soul! The band line
up is widely acknowledged as the
best of its 30 year history. Fronting
the whole thing, the legendary
Laverne Brown
'MIB Rocks' is the 4 piece, all male
line-up of popular band, MIB. They
were chosen as the only band to
perform to 300,000 people in Hyde
Park for the Royal Wedding in 2011.
Mission Blue was formed in 1997.
Led by Randolph Patterson a
trained dancer, singer and
choreographer, this show is oozing
with class dance routines, is slick
and effortlessly performed.
Be blown away by the Mojo Soul
Band, with a spectacular vocalist
and some of the finest musicians
who've played with Tom Jones and
Jimmy Hendrix you're always
guaranteed a great night of live
music!
The New Amen Corner have
emerged in the last couple of years
as the hottest band on the 60's
circuit because of their ability to
recreate so perfectly the sound and
atmosphere of that era.
The band are fronted by Nina
Moore whose voice has the wow-
factor that will impress any
audience and a stage presence that
captures attention. Featuring hits by
Etta James to Girls Aloud and more..
Northern Xposure are a well-
established professional live band
with a proven track record for
reliability in the wedding
entertainment, Christmas party and
corporate party marketplace.
One Touch are a covers band from
South Wales, the members of which
have spent much of the last 20
years in various bands together,
playing songs from the 60's through
to the current chart hits.
Kings and Queens are a female
fronted band with a fresh outlook.
The set is tailored to a party
atmosphere and their singer Katie
is one of the best around. Songs
from 70's to present from soul to
pop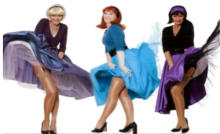 High energy 80's rock tribute band,
perfect for getting the party
started. Dress the part if you
dare!Go back to the days of
legendary guitar riffs, thumping
anthems and stage diving
harmonies!
Modifi are a Britpop Tribute playing
what's known as mod culture's
second coming. The band features
hits from Oasis, Blur, Pulp, The
Verve, Supergrass, Catatonia, Ocean
Colour Scene and may more.
Currently Rocking Venue's
Everywhere! Fully Self-
contained.Perfect for all Hotel
Dinner Dance Nights!Hit after Hit of
floor filling Motown Magic!Call us
now for more info on this show!
Noughty Nineties are a 5-piece
Midlands band, specializing in
music from the '90s and early '00s.
They bring you a supercharged
nostalgia trip to the legendary era
of Dance, R&B and Hip-Hop music.
Nina

&

The Bottle Rockets
Owen Money has reincarnated
probably the best harmony band in
Britain in the 1960s of which he was
the lead singer, The Bystanders.
Wales' King of Comedy now has the
Travelling Wrinklies at his side.
We present "Party Celtica", a new
Party band for the new decade! This
trio boasts two current members of
top party band "Rang-A-Tang", with
vocals and keyboards from the
amazing Marie Kelly.
Party Popperz are based on the
high colour, high impact sounds of
the 70's, 80's and 90's from artists
as diverse as David Bowie, Freddie
Mercury, Sweet, Prince, all the way
through to The Pet Shop Boys.
QUILL is a well-established, 7-piece
country/folk/rock band based in
Birmingham and is enjoying
performing to sell-out shows
throughout the UK, taking the
audience on an exciting journey.
Have you been Rango'd? It is an
unforgettable experience. Playing a
truly eclectic mix of hits from the
60's, 70's and 80's in their inimitable
high life world music style, a truly
wild show!
Hhmmm… not everyone may be
able to afford to book the monster
show provided by Rang-A-Tang… so
we sent forth the three tribesmen
Richie, Daz and Woody, as a more
affordable tight punchy party trio.
50s and 60s covers band Rocket Joe
really know how to make a party
Twist and Shout. Hear songs by
Elvis, Chuck Berry, Jerry Lee Lewis
etc.. played with the passion that
the Originals deserve.
This great Hi energy band will keep
you entertained with their musical
flair and performance; perfect for
media events, shows, weddings,
functions, parties, funky nightclubs
and bars.
Party Patrol have been entertaining
wedding guests, corporate clients,
partygoers, and revellers both old
and young, all over the world since
2012. For your special event, they
are the perfect choice!
Pop Gossip is a party band that
celebrates the incredible diversity
of our pop culture. From rock 'n' roll
and soul to hip hop funk and pop
from Radio Ga Ga to Lady Ga Ga,
they've got everything covered.
Red City are a fantastic party band
with music spanning multiple
decades and covering the greatest
songs of all time. With an infectious
energy to every show, they keep the
dance floor full all night.
Owen Money

& The Wrinklies